Retail Inside WSCC
You can find almost everything you need right within the WSCC walls. Whether it's groceries, fresh coffee, snacks, household products, magazines, lottery tickets. Chances are good that whatever you need you'll find at one of the fine retailers listed below.
 Clay's Market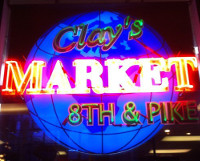 From groceries to fresh coffee, snacks and beverages, household products, toiletry items, magazines, even lottery tickets, you'll find these and much more at Clay's.
Corner of Pike and Eighth
Open daily: 8:00am to 10:00pm
206-264-0306

FastSigns
The folks at FastSigns can design virtually any type of sign, and they'll install it for you too.
Located on Ninth Avenue, just around the corner from Daawat Indian Grill & Bar.
Open: Monday – Friday – 8:00am to 5:30pm
206-682-2129

FedEx Office
This FedEx office is a full-service business center.
FedEx Office is located on Level 1.
Open: Monday – Friday – 7:00am to 10:00pm; Saturday – Sunday – 9:00am to 6:00pm
206-467-1767

The Stamp and Coin Shop
Located on Level 1, next to Taco Del Mar.
Open: Monday – 10:00am to 4:00pm; Tuesday – Friday – 10:00am to 6:00pm; Saturday – by appointment; Sunday – Closed.
206-624-1400