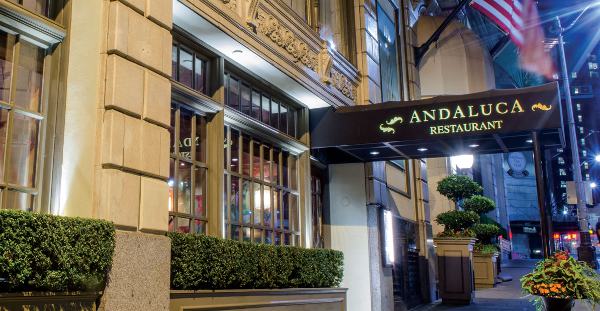 Andaluca Restaurant
Seattle's Andaluca Restaurant is a recognized culinary haven among Seattle locals. Bursting with Mediterranean romanticism and decor, its food and design have been a winning combination since 1996, and attracting thousands of hungry tourists and locals alike. Located just next door to the prestigious Mayflower Park Hotel, the Andaluca is a treat for weary travelers looking for the finest food Seattle has to offer. Like the Mayflower, the Andalusia is a very elegant space, with high-class in every corner. All throughout, mahogany mill work, hand painted murals and plush, fabrics conjure up a sun baked Mediterranean grotto.
Andaluca's menu is exquisite, offering a selection of starters as well as seasonal salads and Northwest entrees. Whether it's Andaluca's signature Paella or their famous Liquid Chocolate Cake, the menu is sure to please the most discerning diners. It is no surprise that Andaluca Restaurant has received numerous reviews and awards.
Wednesday Wine Reception
Every Wednesday guests of the Mayflower Park Hotel (located next door to Andaluca) are invited to join in for their weekly Wednesday wine reception when they can sample some of the Pacific Northwest's finest and mingle with other hotel guests. Chances are you'll probably stay for dinner! Wine Reception takes place every Wednesday from 4:30-5:30pm.
Private Dining
Andaluca is available for private dining functions too. They are able to accommodate up to 75 people comfortably in a completely private atmosphere for breakfast, brunch, lunch or dinner. Banquets, board meetings, wedding receptions, rehearsal dinners and birthday parties are just some of the events that they can accommodate. In order to host a private function in Andaluca Restaurant, a food and beverage minimum is required. Please contact the restaurant for more information.
Free Valet Parking
Have breakfast or dinner at Andaluca's and they will generously provide complimentary valet parking. How nice is that! Located next to the Mayflower Park Hotel, at the corner of 4th and Olive, their friendly valet staff will be waiting for you!



Andaluca Restaurant
Address & Phone:
407 Olive Way Seattle, WA 98101
206.382.6999
Phone: 206.382.6999
Fax: 206.382.6997
Breakfast Hours:
Mon-Fri: 6:30am – 11:00am
Sat-Sun: 7:00am – 12:00noon
Reservations are not required for Breakfast
Dinner Hours:
Tues-Thurs: 5:00pm – 9:00pm
Fri-Sat: 5:00pm – 10:00pm
Sunday – Monday – Closed
They are closed for Lunch.
View a Menu Here